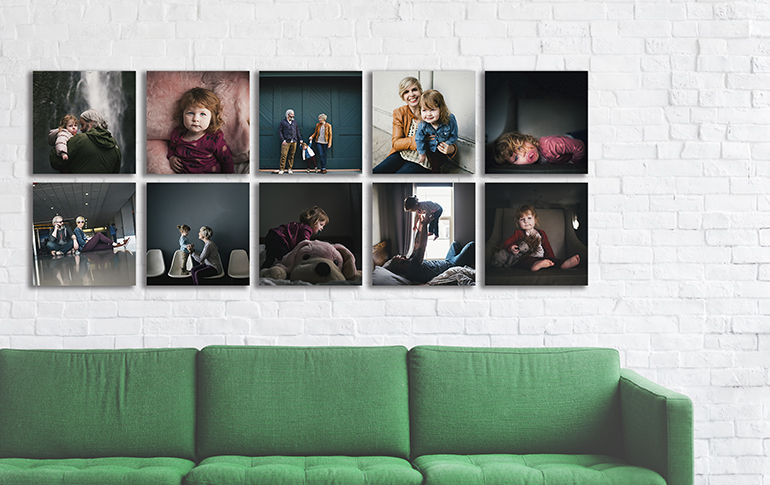 Gallery Wrapped Canvas
We understand how intimidating it can be when planning your gallery wrapped canvas; we are here to hold your hand along the way.
We are more than happy to help you design a custom layout for your home or business
Our proofing system helps make sure that you receive your canvas exactly as you wanted it; no surprises
Your gallery wrapped canvases come with hanging hardware installed and with a handy wall hook so that you can have your canvases on your wall in a jiffy; no tools required
Do you have multiple images from different periods of time and are unsure of how they will look hanging together? No worries! We can edit them to have a more uniform appearance.
Still unsure about your layout? We are here ready to help! Let us know how we can serve you!

LOVE IT, GUARANTEED
Don't love it, return within
30 days for a full refund

FREE FAST SHIPPING
Free FedEx Shipping!
on all US orders

HARDWARE INCLUDED
Hang your canvas within minutes, no tools needed
Everyday Canvas Girl's Musings about Gallery Wrapped Canvas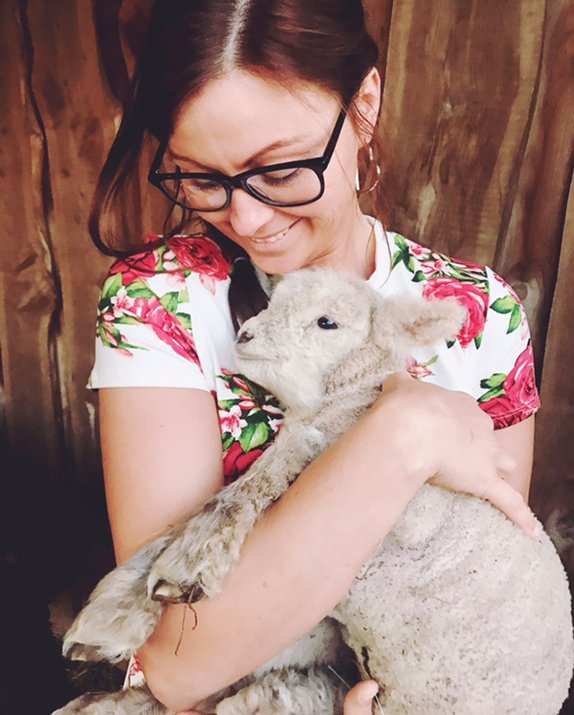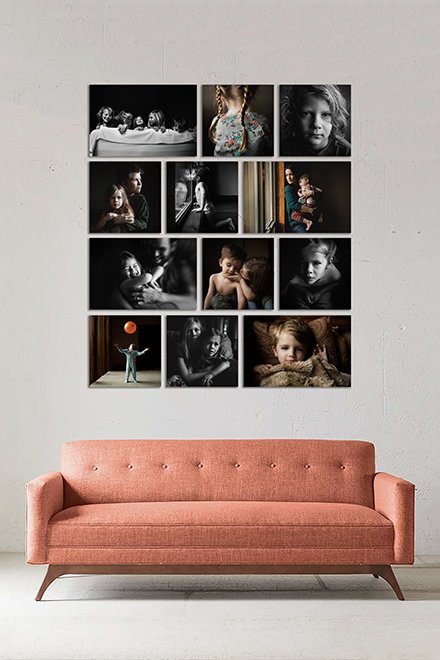 Hi ?‍♀️,
I'm Amanda, at  CanvasHQ.
Gallery wrapped canvas is close to my heart because gallery walls like you see in the photo here are a perfect way to tell the touching and heartwarming story of your family.
The picture you see here is the gallery wall that I was lucky enough to be able to help National Geographic featured photographer, Dana Lee, with for her home. Every gallery wall of canvases begins with a great story and is made even better with great photography. Dana's story and photography were very moving to me; she documented her struggles with fertility which led her to adopt children. As we moms know every child is a gift from God and a struggle simultaneously.
When she made the leap of faith to adopt, she wasn't 100% prepared for the fact that her adopted children would come with their own life experiences, struggles, and rough edges which were even more of a challenge for her given that the kids weren't infants or toddlers who had been raised well from day one. On top of this major learning experience for Dana, she, unexpectedly and miraculously, became pregnant with twins (whoah ?). My heart ached with her as Mrs. Lee recounted the difficulty in caring for newborn twins as a first-time mother of infants on top of trying to be the best mom possible to her adopted children who needed so much time, attention, and love from her.
The pictures that she sent to me for her gallery wall were very moving to me. They show (beautifully, I might add) the true complexity of parenthood; the wide range of emotions ranging from joy to sadness to hope to melancholy to banality and to beauty.
Without telling Dana, I got some help from my friends over at Craft Cuts to make a title for her gallery wall of canvases. We summed it up with 'I See Beauty' in beautiful wood-cut letters which she mounted to her wall in the middle of her canvas prints. She told me that it was the perfect way to describe the images of her children and even, on a deeper level, life in general. I'll never forget the opportunity to work with Dana, her inspirational story, her strength, her perseverance, and, frankly, how darn good the canvases looked in her home. Thank you, Dana!
For more inspiration, you can peruse our Pinterest board showing more canvas gallery wall examples. And, when you're ready to start thinking about your own house we have a Pinterest board showing some of our most popular canvas gallery wall templates like the Dawn Gallery that you see here.
If I could leave you with one last thought about why I love gallery wrapped canvas walls, it's because they can evolve just like your family's story. I get to work with a lot of clients who have grown their canvas gallery walls through the years, and it's a joy to watch their kids grow up and maybe a few more gray hairs show up on their parents' heads. It's sort of like the newfangled version of the kids' door frame height marks that my grandparents used to do whenever we had a big family gathering; these canvases help chart the family's journey over time, but with a lot more feeling and emotion that simple pencil marks on a door frame.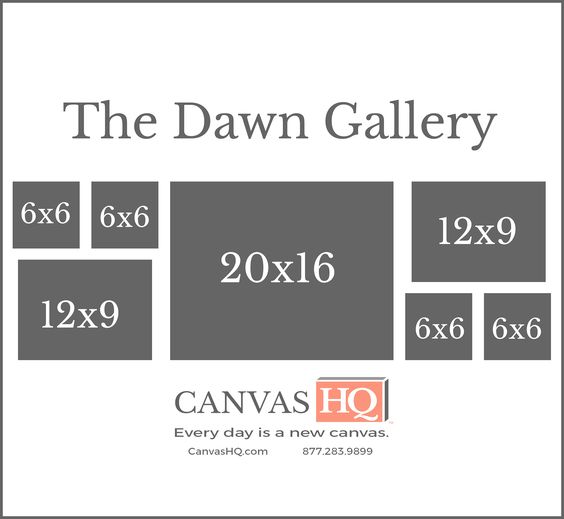 Just like Dana, you can be sure to get a custom experience at CanvasHQ. Not only will you have your memories printed on the thickest highest-quality canvas in the industry. Your area also promised a very personal ordering experience.
The great thing about gallery wrapped canvas is that it stands alone on its own merit; no frame is needed. It's just like what you see in many museums, and we pride ourselves on making museum-quality custom canvas prints. Even though our canvases don't need a frame, you can definitely add a frame later if you'd like. Many of our customers choose to work with their local frame shops to find the perfect frame for their canvas print. The texture of canvas really adds the authenticity of art that you just can't get with a print.
If you are intimidated by editing jargon or need assistance in selecting a size for your space there is always a human on hand to help you out. Feel free to get in touch with us by phone call, live chat, or even email.
Speaking of humans, our entire production system is run exclusively by humans who want you to get exactly what you want.
After all, we want you to trust us for all of your canvas needs and tell your friends and family about our service and products.
As always, we're here to serve you,